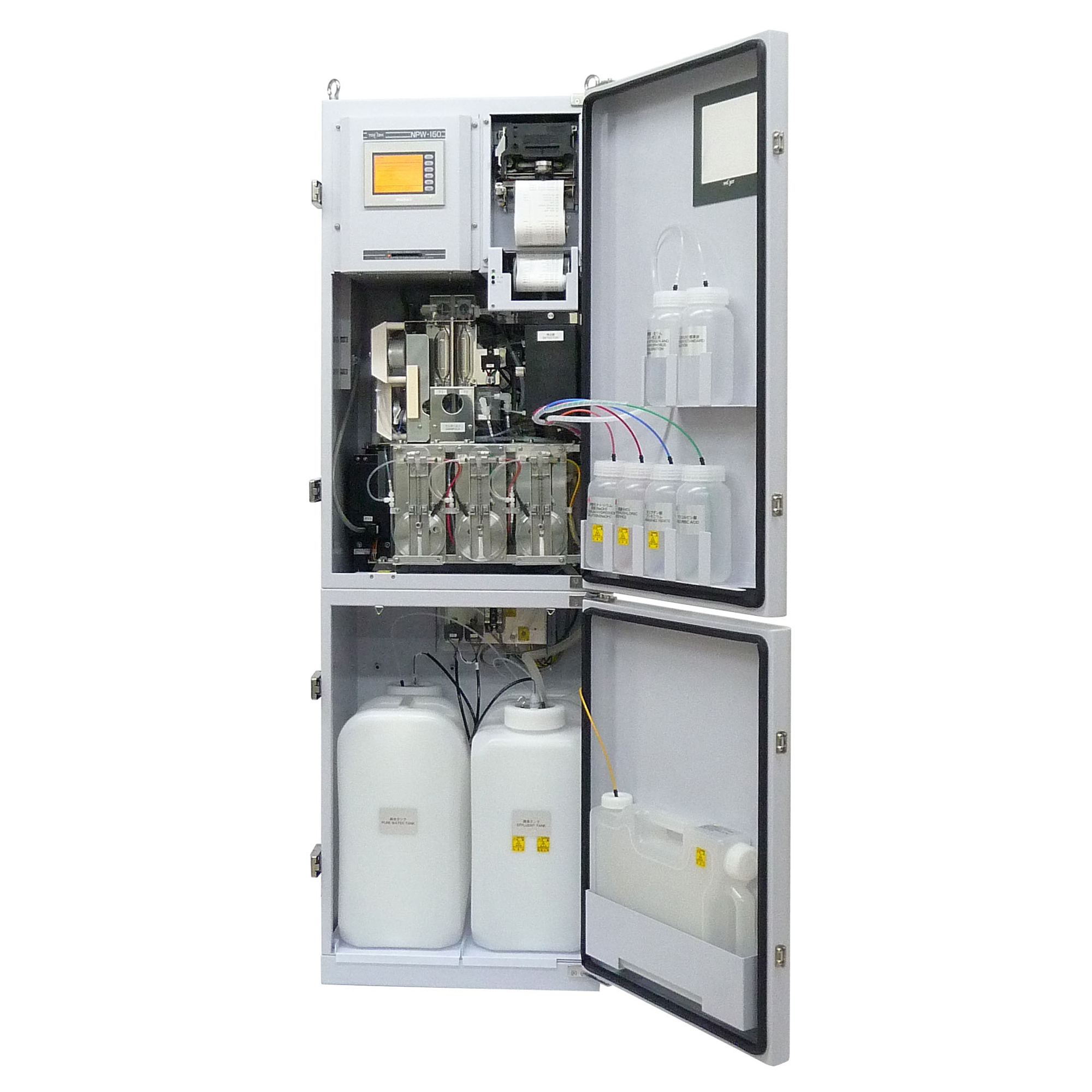 + 120°C 30 minutes pyrolysis is adopted to achieve
a sound integration with hand analysis value.
+ To test 3 items (TN, TP, COD (UV)) with a multi-wavelength
detector.
+ Compact design with simple sample and reagent measuring
unit.
+ Integrative manifold tubing, simple structure
+ To reduce measured waste liquid to 15L/month by saving
reagent
+ The heating resolver adopts an independent simple design
+ Pure water in built-in sink can test continuously for about
10 days.
+ Tubing in the back has been moved to operate from the
front.
+ CF Card can store 1 year's data.
Meas. range:
Total nitrogen: 0 - 2 mg/L to 50 mg/L
Total phosphorus: 0 - 0.5 mg/L to 20 mg/L
COD (UV method): 0 - 2 Abs
Measuring objects: Total nitrogen (TN) density and total phosphorus (TP) and COD (UV) density in the water
Measuring method:
+ TN: Alkaline peroxo disulfate decomposition (120°C, 30 minutes) - ultraviolet spectrophotometry
+ TP: potassium peroxo disulfate (120°C, 30 minutes) - Molybdenum blue (ascorbic acid) spectrophotometric method.
+ COD: 2 wavelength spectrophotometry (ultraviolet 254nm/ visible rays 546nm)
Measurement range: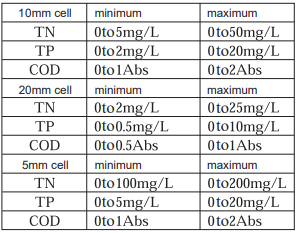 Repeatability: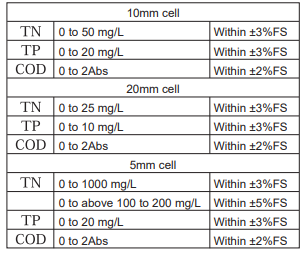 Measurement cycle: measurement / 1 hour (can set to be 1 to 6 hours)
Measurement point: 1 fluid passage
Load capacity calculation: Built-in
Display mode: Touch screen operation, switch to display year, month and date, moment, measurement value, load capacity, action state etc.
Recording mode: small built-in flash memory (1 years data storage), equipped with a printer with auto winding function.
Calibration method: To use calibration liquid for manual and auto calibration. External signals can be made use for calibration. Zero calibration is conducted automatically when COD is used for measurement.
Analog input signal: Drainage flow rate measurement value input: 4 to 20mA DC
Analog output signal:
+ Measured value / 3 items: 4 to 20mA DC, load resistance
less than 600 Ω.
+ Load capacity / 3 items: 4 to 20mA DC, load resistance
less than 600 Ω.
Contact input signal: external measurement start signal, external calibration start signal, no sample, flowmeter maintenance is under way, contact rating: 24V DC, 0.3A
Contact output signal:
+ Measurement value alarm (3 items), load capacity alarm (3 items), major failure, minor failure, maintenance underway, power off, preprocessing startup
+ Contact rating: 24V DC, less than 0.3A
+ AC100V, less than 0.1A
Ambient temperature and humidity: 2°C to 40°C, less than 85 % (RH)
Specimen water condition: Flow: 1 to 3L/min (about 60mL/1 measured)
Pressure: 20 to 50kPa, temperature: 2 to 40°C
Reagent consumption amount:
+ Peroxide solution: 2.6L
+ Sodium hydroxide: 0.37L
+ Hydrochloric acid: 0.45L
+ Ammonium molybdate: 0.37L
+ L- ascorbic acid:0.37L
(1 hour/ 1 measurement hour 1 month's consumption amount)
Waste liquid amount: about 15L/month
Power supply: 100VAC±10V, 50/60Hz
Power consumption: 500VA (max), 200VA (average)
Structure: IP52, floor surface setting model
Boundary dimension: 450 (W) × 380 (D) × 1430 (H) mm (excluding water catcher)
Coating color: equivalent to Munsell 5PB8/1
Weight: about 80kg
This product is used for drainage monitoring in factories and business offices, and auto measurement of total nitrogen, total phosphorus and COD density in water quality control.