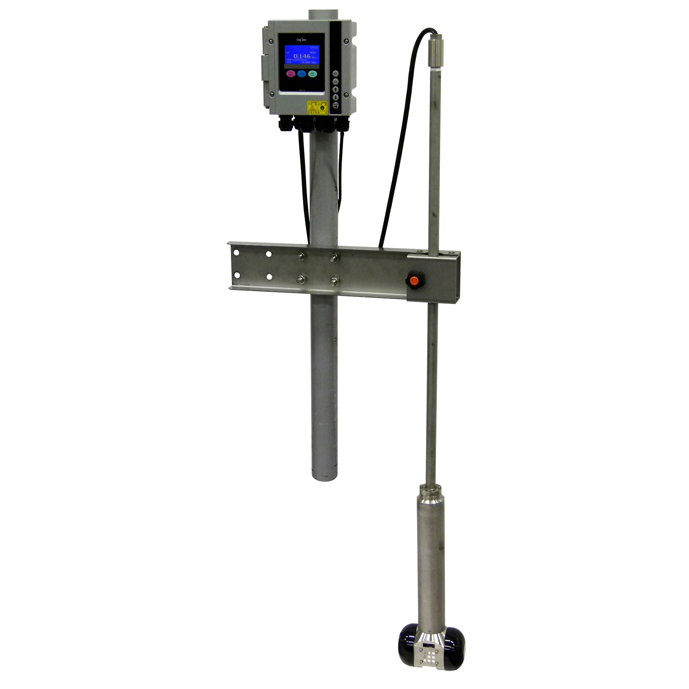 + Environmentally-friendly, reagentless measurement
This model measures COD without using mercury or hexavalent chromium reagents.
+ Continuous measurement ideal for effluent water monitoring.
By continuously measuring COD, abnormality in the effluent can be detected quickly, enabling prompt handling of the situation.
+ Compact and lightweight design
The immersion-type detector included with the instrument, which was highly rated by users of the previous model, has been made approximately 50% smaller and 20% lighter than the original detector, making it much easier to install the instrument. In addition, the installation of the optional sample receiving tank enables measurements to be performed by extracting samples from the process stream.
Measurement method: Dual-wavelength absorptiometry (UV 254nm/visible light 660nm)
Measurement range:
+ UV absorbance; 0~2.5Abs
(The transmission output range can be adjusted in 0.1 Abs increments within a range of 0.5~2.5Abs.)
+ The readings can be displayed as absorbance on a 10 mm cell length conversion basis.
+ The displayable absorbance ranges are as follows.
25 mm cell; 0~1.0Abs
10 mm cell; 0~2.5Abs
6 mm cell; 0~4.17Abs
Measurement cell: Immersed parallel cell (6, 10, or 25mm, as specified by customer)
Cell cleaning:
+ Wiper system for automatic cleaning
+ Cleaning cycle; 1~9999 minutes (default; 60)
+ No. of cleaning; 0~99 (default; 2)
Sample Condition:
+ Sample temperature; 0~45°C (no freezing)
+ Flow speed (Immersion type); Lower 0.75m/sec.
(Notes of Installation on Page of 7 and 9)
+ Flow rate(Sampling type); 3~6 L/min.
Maximum water dept: 6m
Calibration: Zero: Pure water
Displayable item: UV-VIS absorbance, UV absorbance, VIS absorbance, COD conversion value, Turbidity conversion value, SS (Suspended Solid) concentration conversion value and sample temperature.
Transmission output:
+ 4~20mADC, load resistance; 600Ω or
less, isolated
+ Simultaneously output of any three of the following signals; UV-VIS absorbance, UV absorbance, VIS absorbance, COD conversion value, turbidity conversion value, SS concentration conversion value, and sample temperature (non-isolated between transmission outputs).
+ The COD conversion value, turbidity conversion value, and SS concentration conversion value are calculated by employing a linear expression to convert the absorbance.
Contact output signals:
+ Power cut-off signal, CO(ChangeOver)contact (NO/NC) output Alarm signal, NO(Normally-Open)contact (NO) output (Any three of the following contacts can be selected.)
+ Under maintenance
+ Under cleaning
+ General alarms
+ Measured value higher limit alarm
+ Lamp error (UV, VIS)
+ No sample
+ Leakage alarm
+ Wiper drive motor error
+ Sample temperature error
+ In addition to the first three items listed above, any three of the six general alarm items can be assigned to contact outputs 1~3.
+ Contact capacity; 30VDC, 0.1A or less 125VAC, 0.1A or less (resistance load)
Contact input signals:
+ Cleaning start signal; Signal used to remotely control the cleaning program.
+ No-voltage contact signal
+ ON resistance; 50Ω or less
+ Short circuit current; Maximum of 5mA
+ Open voltage; 24VDC
+ Make time; 0.1sec. or more
Digital communication output (optional feature):
+ Two selections are available for digital communication output; communication output RS-485 or output to USB memory for data recording.
+ Digital communication output; RS-485 interface+ USB memory (data is saved in CSV format)
+ Memory data format; date-hour-minute, UV, VIS, and UV-VIS values, COD conversion value, turbidity conversion value, SS concentration conversion value, water temperature (sampling cycle can be set to a length of 1 to 999 minutes)
+ An approximately five year block of data can be saved when 1 minute is specified as the sampling cycle.
+ If the amount of available free space becomes incredibly low, the unit will be unable to record new data. Make sure to delete old or unnecessary data at regular intervals.
Power requirements: 100~240VAC±10%, 50/60Hz
Power consumption: Average of approx. 10VA, maximum of approx. 20VA
Mounting: Immersed type, wind-up type, hanging type, and sampling type
Materials:
+ Transmitter; Die-cast aluminum
+ Detector; Main body…SUS316, ABS resin
Cell…Quartz glass
Wiper…FPM rubber
Surface finish: Transmitter; Metallic silver
Protective construction: Transmitter; IP65
Transmitter cable port:
+ Six cable glands for ø6~12 cable (one of which is for the detector)
+ Conduit threads (six G1/2 threads) can be connected when the cable glands are removed.
Extension cable:
+ 1 cable to connect the detector and transmitter
+ Standard length; Sampling type…3m.
+ Immersed type, wind-up type, and hanging type; Specified by customer
+ Maximum length; 30m (optional feature)
Dimensions (see the section "Dimensions" for details):
+ Transmitter; Approx. 181 (W) x 95 (D) x 180 (H) mm
+ Detector; Approx. 150 (W) x 95 (D) x 455 (H) mm
+ The height (H) of the immersed type varies according to the specification.
Weight:
+ Transmitter; Approx. 2.0kg
+ Detector; Approx. 5.3kg(except cable)
Installation:
+ Unit can be installed outdoors
+ Ambient temperature; -5~50°C
+ Ambient humidity (transmitter); 95% RH or less
+ Ensure the unit is not subjected to vibration, shock, and corrosive gases.
+ Install the detector at a position in which the sample water can circulate smoothly.
+ This will ensure that the readings accurately reflect the sample values.
This product is installed near the drain ditch of a plant, and to continuously measure organic pollutants for calculating the pollution load of the effluent.