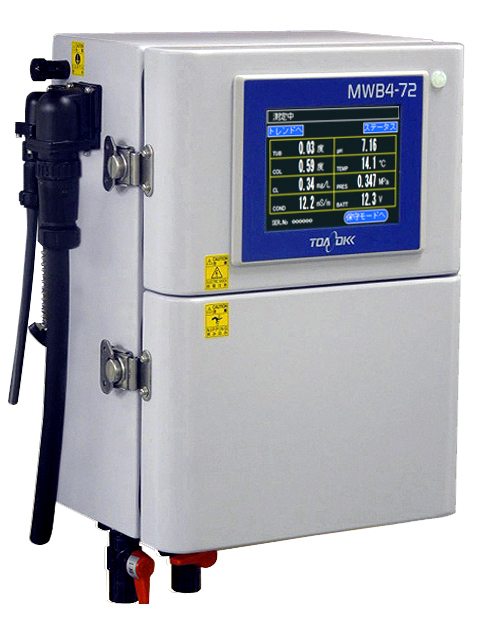 Automatic Water Quality Analyzer for City Water (MWB4-72) is TOA-DKK Corporation's modern and potential product for continous monitoring water quality at faucet feed line or water receiving tank of a building.
*Measeasurements:
+ Turbidity
+ Color
+ Residual Chlorine
+ Electric Conductivity
+ pH
+ Temperature
+ Water Pressure
MWB4-72 also delivers high reliability, durability, and excellent maintainability.
Currently, GK Finechem Vietnam Co., Ltd is the official distributor of TOA-DKK for MWB4-72 in Vietnam.
| | |
| --- | --- |
| Product name | Compact City Water Analyzer |
| Model | : MWB4-72 |
| Objects measured | : Three basic items (turbidity, color, and |
| | residual chlorine), electric conductivity, |
| | pH, temperature, and pressure |
| Measurement | : Ability to switch between two ranges for |
| range switching | both turbidity and color measurements. |
| Display | : Color LCD touch panel |
| Temperature | : 0 to 40°C for residual chlorine, EC, and |
| compensation range | pH |
| Response time | : 90% response within three minutes |
| Operating power | : 100 to 240V AC ±10%, 50/60Hz |
| Power consumption | : Approx. 40/55VA (100/240V AC), max. |
| | of approx. 83/108 VA (100/240V AC) |
| Transmission | : DC 4 to 20 mA, isolated |
| output | ( Negative (-) side is common.) |
| Load resistance | : 600Ω or less |
| Contact switching | : Alarm 1; General alarms (measured value |
| output signals | High-High/Low-Low limit alarm, light source |
| | error, residual chlorine motor error, sensor |
| | error, and start-up mode error) |
| | Alarm 2; General alarms (concentration |
| | upper/lower limit alarm, water temperature |
| | compensation error, and auto calibration error) |
| | Maintenance; When in ST-BY mode |
| | Event; During auto cleaning, during auto |
| | calibration, and during problem diagnosis |
| | (Contact capacity for all of the above; 24 |
| | VDC 0.2A resistance load)) |
| | Power cut off; The contact is closed when |
| | a power failure occurs. |
| | (Contact capacity; 30 VDC 0.2A |
| | resistance load)) |
| Contact switching | : Cleaning command; When the closed |
| input signals | contact receives, cell window cleaning |
| | starts (turbidity / color).Start cell window |
| | cleaning (turbidity / color) |
| | Calibration request; When the closed |
| | contact receives, automatic zero |
| | calibration starts (turbidity / color / residual |
| | / residual chlorine).Start automatic zero |
| | calibration (turbidity / color / residual chlorine) |
| | (Resistance load; 200Ωor less, Pulse |
| | duration: 500mS or greater) |
| Communication | : RS232C interface or RS485 interface |
| system | (isolated) |
| | Communication speed; 9600 BPS |
| | Synchronous system; Start-stop |
| | synchronization |
| | Control system; Half-duplex |
| | communication system |
| | One line for communication (dedicated |
| | cable or connector), one line for |
| | maintenance (D-SUB connector) |
| Save functionality | : Data such as measurements can be |
| | transferred to a memory card.(Compact |
| | Flash,CF) They can also be processed by |
| | a computer. |
| | One minute measurement values can be |
| | stored in 3-month intervals, and one hour |
| | values can be stored in 1-year intervals. |
| Sample water | : No suspension or stagnation. |
| conditions | Quality; Ensures that the water quality |
| | (excluding the items below) satisfies the water |
| | quality standards set by the Water Law or falls |
| | within the measurement range of this unit. |
| | Temperature; 0 to 40°C (no freezing) |
| | Pressure; 0.05 to 0.75MPa |
| | pH; 5.5 to 8.6 pH (maximum fluctuations; 1pH) |
| | EC; 8 mS/m (80µS/cm) or greater |
| | Flow rate; 50 to 100 mL/min |
| Sample | : 5m3/month or less (9m3/month, including |
| consumption | a by-pass flow of 100 mL/min) |
| Wetted part materials | : Polyurethane, PP, acrylic, stainless steel, |
| | FKM, etc. |
| Piping end connection | : Sample water inlet; Rc 1/4 |
| | Drain outlet; Rc 1/4 |
| | Calibration solution inlet; Rc 1/4 |
| | Air purge; Rc 1/4 |
| Installation | : Mounted on a wall or rack |
| Wiring end connection | : Two water-proof connectors |
| | A power supply cable and I/O signal |
| | cable (3-meter) are also included. |
| Ambient conditions | : 0 to 40°C (no freezing), 85% RH or less |
| | (no condensation) |
| Weight | : Approx. 11 kg |
| Construction | : Indoor installation (IP43 equivalent) |
| Case material | : Aluminum |
| Color | : Light gray (Munsell 5PB 8/1 equivalent) |
| Automatic calibration | : Zero calibration for turbidity, color, and |
| | residual chlorine. The internal timer and |
| | an external contact signal are used to |
| | start calibration. |
| | (Zero water is prepared by filtering sample |
| | water through a zero water filter.) |
| | Calibration cycle setting; 0 to 24 hours |
| | (freely specified) |
| | Calibration time; Approx. 13 min. (fixed) |
| | Transmission output hold time during |
| | calibration; Calibration time approx. 13 |
| | min. + 9 min. (fixed) |
| Automatic cleaning | : The internal timer and an external contact |
| | signal are used to start backwashing (by |
| | draining the water) to clean the cell |
| | window for turbidity and color measurements. |
| | Cleaning cycle setting: 10, 15, 20, 30, or |
| | 60 min. |
| | Transmission output hold time during |
| | cleaning; Cleaning time approx. 2 min. + 1 |
| | min. (fixed) |
| | Beads cleaning of residual chlorine |
| | electrode by self-rotation |
| Options | : Indoor self-standing frame (preassembled, piping pre-installed) |
| | Outdoor cubicle (temperature-controller |
| | included) |
| | Water sampling unit for abnormal time |
| | Internal leakage detection unit |