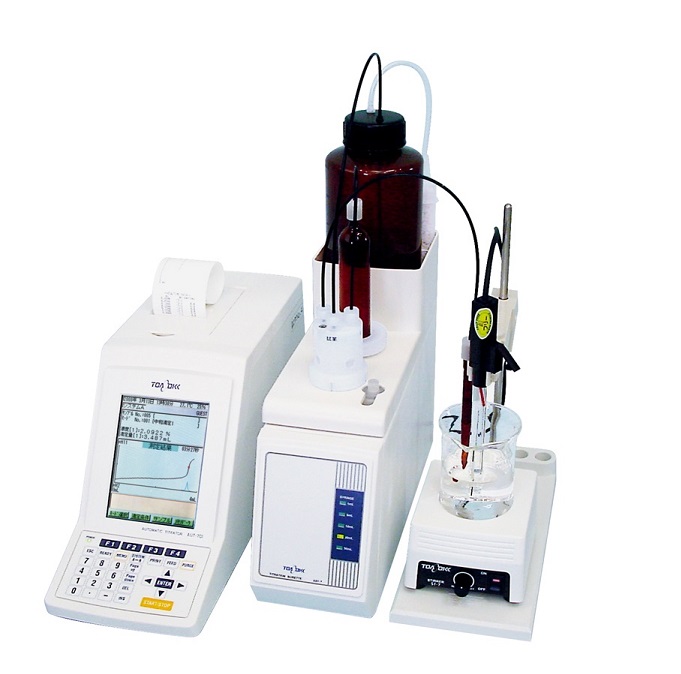 1. Easily visible LCD display and easy operation
Interactive touch key operation
A large backlight color LCD display
Real time ddisplay of titration curves, measured potential/pH values, sample solution temperature, titration regent consumpsion and titration elapsed time
2. A versatile titration methods
Six different methods are avilable
The titration time can be cut by using a newly developed titration control
The most appropriate titration conditions can be auto matically set thanks to a preminary titration
3.Convernient and practical function
100 data memory back up saving each system
Improved titration reliability when burette volume corrective function, pH calibration data recording function and/or pH electrode change warning function are used
4. Expandable system
Selection between 2 mode: single of dual system. With dual system: 2-channel measurement is possible when 2 burette is connected
10 ABT-7 burete can be connected for multi-sample titration
The AUT-701 automatic titrator has 2 electrode input port
Two more input ports can be provided for versatile applications of optional titration units are connected
The optional titration units include those for potentionmetric, photometric, polarzation and electric conductivity.
Connection to Toa-DKK turntable relizes automatic titration process of multiple samples
Connection to a combination of the turntable and automatic sampling anf measuring unit realizies a full automatic system to make sample volume measurement, dilution, regent dispensing, titration and cleaning processes.
Connection to a electric balance makes it possible to input the weight data of powder/granular samples in to AUT-701
Connection to a PC simplifies data processing
Connection to a printer
Product name
Automatic titrator
Model
AUT-701
Display
Corlor LCD with backlight
pH measurements
JIS (Japan Industry Standard) type I
Titrator/Measurements
1) Inflection point detective titration
2) Set-point titration
3) Whole volume titration
4) Intersection detective titration
5) Stat titration
6) Preliminary titration
7) pka measurement
8) pH/mV measurement
9) pH adjustment
10) Electric conductivity measurement
Number of titration steps
5 steps, max (2 steps for intersection detective titration)
Measuring modes
Standard mode: 20/system
User mode: 40/system
Link mode (for sequence titration): 20/system
Measuring item/Ranges
1) pH: 0.0 to 14.00 2 channel only for standard
2) mV: 0.0 to ±2000.0 mV
3) Temperature: 0.0 to 100°C
The following items become measurable when optional units are connected to the AUT-701.
1) Constant voltage/Current method: 0 to 1000µA
2) Constant current/Voltage method: 0.0 to ±2000.0 mA
3) Electric conductivity (depend on the EC cell to be connected to main unit
0 to 200.0 µS/m
0 to 2.000 mS/m
0 to 20.00 mS/m
0 to 200.0 mS/m
0 to 2.000 S/m
0 to 20.00 S/m
0 to 200.0 S/m
4) Transmissivity (Photometric titration): 0.0 to 100.0%
5) Room temperature: 0.0 to 50.0°C
Humidity: 5 to 90% RH
Number of electrode/Cell
4-channels, max
Ch. 1 and Ch. 2 for standard (pH or mV)
Ch. 3 and Ch. 4 areconnectable to the following optional units
1) Potentiometric titration unit, FUT-7050 (mV only)
2) Photometric titration unit, FUT-7010
3) Polarization titration unit, FUT-7030
4) Conductivity titration unit, FUT-7040
Note: Single system mode/Dual system-mode operation can be selected. In the dual system, 2 channel simultanous titration or measurements can be performed
pH calibration
Automatic 3-point calibration
Note: Mannual 3-point calibration for arbitrary standard solutions
pH temperature compensation range
ATC: 0 to 100°C
MTC: 0 to 100°C
EC settable items
Cell constant setting: Provided
Reference temperature setting: Provided
LCD display contents
Simultanous display of titration curves, titration colume, pH or mV, temperature, and titration time
Language selection between English and Japanese
In dual-mode system: display of selectedsystem A or B
In connection to optional unit:Room temperature and humidity
Printer
Intergrate with a thermal line printer
Communication Provision and external control input/output signals
RS-232C Ports: 5
Port 1: Titration burette
Port 2: Personal computer
Port 3: Turntable (DKK-Toa, model TTT-510)
Port 4: One of Auto Sampler, AST-3210 or electronic balance or Turntable
Port 5: Optional external printer, model EPS-R
LAN Port: 1
USB Port: 1
Data memory
200 data, max Data in memory can be recalled for reanalysis.
Note: each system A and B has 100 data
Power supply
AC line 50/60Hz applicable
Power consumption
35 VA, max
Dimensions
Approx. 150(W) x 300(H) x 385(D), include extrusions
Mass
Approx. 3.6 kg
Performance guaranty
5 to 35°C, 20 to 85% RH (no condensation)
Analysis solutions for a wild range of applications:
Chemistry: Composition analysis, saponification value, acid value, epoxy equivalence, diazotization titration
Food processing: Acidity, salinity, vitamin C, peroxide value
Pharmaceuticals: Potentionmetric titration. gastric acidity analysis
Petrochemicals: Neutralization number and bromine number of petrochemical product, hydrogen sulfide in desulfurization watse water
Electronics: Free acid in etching for printed circuit card, free acid in surface treatment liquid
Metal Plating: Acid/alkali in nikel planting liquid, metal composition analysis.